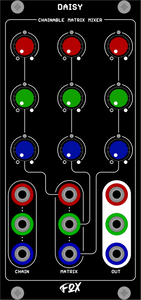 Foxing Hour
DAISY - Chainable Matrix Mixer
Regular price
$37.00
Sale price
$219.00
Unit price
per
DAISY is a Chainable Matrix Mixer w/ alternate gain configurations and positive or negative mixing options.
Daisy modules can be chained together by patching the RGB outputs of one Daisy into the RGB CHAIN inputs of another Daisy module. The CHAIN inputs are mixed at the output either positively or negatively as chosen by the reverse-side jumpers. This expands the number of RGB matrixes for each successive chain.
Daisy partners well with an ACCESS module as well as SW6, our passive switch expander module. With backside jumper cables, SW6 can be used to break out the negative and positive mixing options for the Chain inputs.  
Dimensions:

12 HP

42 mm deep
Current Draw:

57 mA +12V

54 mA -12V

0 mA 5V
---